Which Type of Roofing Is Right for Your Commercial Property?
---
---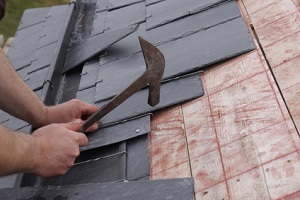 Whether you're constructing a new building or you need to have the roofing of an existing commercial property replaced, it's very important that you know that you're choosing the best roofing material possible for your building. At American Roofing Service, our professional New Jersey roofing contractors can work with you to select the perfect roofing system for your commercial property, and we can provide you with high-quality installations, repairs, and maintenance services.
When you're determining which kind of roofing system would be right for your commercial property, you need to find roofing that will be able to protect your property from weather and the elements, and that can enhance your property's energy efficiency. Our professionals will work with you directly to determine the perfect roofing material for your property based on its architecture and your budget. Here are the most popular types of commercial roofing materials:
Thermoplastic Roofing
Thermoplastic roofing system are becoming more popular for commercial properties very rapidly. The thermoplastic material is exceptionally durable, it has a low-temperature flexibility and a high-temperature tolerance, and it's resistant to ultraviolet and chemical exposure. It can also withstand fire, punctures, and high winds, and it can typically be expected to last for more than 20 years.
EPDM Roofing
Ethylene propylene diene monomer—or EPDM—is a very durable rubber materials that's not much different than inner-tube material. It's easy and inexpensive to install. It can be mechanically anchored to your New Jersey commercial property's roof with fasteners, ballasted with stone, or glued on.
Also referred to as rubber membrane roofing, this material is very lightweight, but it's also very resistant to damage. However, EPDM roofing is more vulnerable to punctures, and it can also be more expensive upfront than some other roofing materials.
Green Roofs
Green roofs are systems of living plants and vegetation that are installed on the roofs of residential, commercial, and industrial properties. Roofs made of plant systems have been around in different forms for centuries, but modern green roofs are made of a system of manufactured layers deliberately placed over roofs to encourage the growth of vegetation.
Our Commercial Roofing Services
Our New Jersey roofing contractors can help you install any type of commercial roofing system. We also offer repairs and maintenance services, so we can always help you keep your commercial property's roofing in great condition.
If you're looking for commercial roofing services in New Jersey, call American Roofing Service at 201-358-2929, or fill out our online request form.