New Jersey Gutters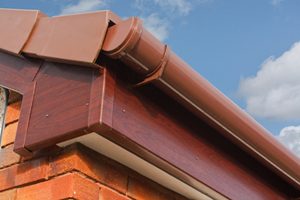 Whether you are in the process of designing a new commercial building or fixing up an older home, one of the things that you will have to take care of is gutters in New Jersey. Gutters are one of those things everyone takes for granted, or gives little thought to, until they need to take care of repairs or picking them out. The good news is that you can rely on our team of experts here at American Roofing Service to help take care of gutters in New Jersey. It doesn't matter if you need new installation or repairs on your existing gutter system, we will be there for you.
Essentially, gutters are a system of long, narrow tubes designed to transport rain water off of your roof and through the downspout. The purpose of this is to be able to catch most of the water and direct is away from the foundation of your residential or commercial building. The purpose of this is to lessen the likelihood of this causing erosion, mold or otherwise compromising the structural integrity of your home by soaking and seeping in around the foundation.
New Jersey Gutter Repair Pros
There are now countless options for gutters in New Jersey, so it is important to work with a knowledgeable and experienced expert. From seamless gutters to leaf guards, you want to make a choice that you can live with for years to come. Without proper care and maintenance, your New Jersey gutters can also begin to cause problems, so you need to call on American Roofing Service in order to avoid this from happening through preventative maintenance, service and gutter repairs.
The shape, the materials and the cost are just a few of the factors to consider when choosing your gutters. Ultimately, it should be performance and longevity that should heavily impact your decision making. This essential drainage system will need to be cleaned, checked for holes and monitored for sagging, just to name a few. Let us help you ensure that you get the gutters you want, and the service for them that will make all of the difference.
Installing Gutters in New Jersey
American Roofing Service makes it a point to only work with the best brands for the finest in quality gutter installations in New Jersey. What is the point of providing customers with the best workmanship if the products won't hold up or perform as they should? Make the smart choice by giving us a call to take care of your need for gutters and other exterior services in New Jersey. If you are in need of gutters or service for your gutters, let us show you, in person, how we have become the local leading New Jersey roofing contractor and exterior services provider.
If you are looking for a professional for repairing or installing gutters in New Jersey, then please call 201-358-2929 or complete our online request form.