The New Jersey Insulation Pros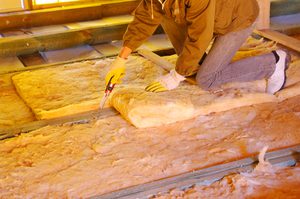 Whether you are building the home of your dreams, or working on updating the one you already have, you will need to think about insulation in New Jersey. One of the most common details that gets overlooked, when it comes to fixing up an older home, is taking a good, hard look at the condition of the insulation. Over the years, this can settle, become damaged or even be subjected to things like being used by rodents for nesting purposes. So it only makes sense to want to be sure that you have the quality that you should, as well as the proper amount of insulation in New Jersey.
Where you will begin to really notice a difference and feel the impact is with your monthly utility costs. Your insulation is what helps maintain the temperature control you want; it keeps your home cool in the summer and warm all through the winter. Make it a point to call on our New Jersey insulation installation pros here at American Roofing Service in order to have your insulation inspected and make sure that you get the quality you need to blanket your home, or business, and help keep those energy bills costs lowered.
New Jersey Insulation Installation Experts
This is also an essential step in making sure that your residential or commercial building is eco-friendly. Using insulation to make your home to make it energy-efficient also means that you are making it more green. Since everyone wants to make efforts in order to be more environmentally responsible these days, this is an important detail to include in your new build or renovations.
The good news is that quality New Jersey insulation can also help with noise. This blanket can help soften exterior noise from bleeding in and help interior sounds from being overheard by neighbors. The bottom line is that it helps to work with knowledgeable industry experts that can ensure that your home or business has or gets the proper amount and quality of insulation in New Jersey.
The Source for Residential & Commercial Insulation in New Jersey
American Roofing Service has been the top choice around, for home improvements like this and exterior services in New Jersey, since 2004. We take this line of work seriously and that is evident from the results that we get and from the number of satisfied customers we have. A great deal of our clients are the direct result of referral or repeat business; not something you can earn unless you know how to take care of your customers.
If you are in need of insulation for your home or business, give us a call. You will quickly discover what makes us number one, not just as a New Jersey roofing contractor, but as an insulation contractor as well. But don't just take our word for it; let us demonstrate this to you in person.
If you are looking for a New Jersey insulation contractor, then please call 201-358-2929 or complete our online request form.