Hudson County Roofing Contractor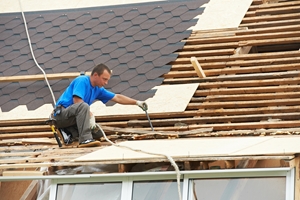 In need of a Hudson County roofing contractor to take care of your many roofing service needs? Then you have come to the right place. Here at American Roofing Service, we know that we tend to take roofing services in Hudson County much more seriously than the average person, but that just means we can be trusted to take care of this for you. Keep in mind, we have seen one too many instances where a roof was left neglected and not properly cared for, with disastrous results.
Neglecting your roof repairs in Hudson County and ignoring the need for ongoing services, like annual roof inspections, will only make things that much worse. With proper care and service, the average asphalt shingle roof can last up to 20 years. However, decline to take care of it and you could find yourself paying for major emergency roof repairs or even untimely replacement. Your roof is what takes care of the entire rest of your structure, as well as the items and people inside so don't take chances when it comes to the well-being.
Hudson County Roofer
It is ironic to think that the most important part of your home or business is also the most commonly neglected area. It is important to let a roofer in Hudson County carry out an annual inspection, as well as a follow up one in the wake of any severe weather related activity; you just do not have the training needed to spot something from the ground with a pair of binoculars. However, if you are going to take a look yourself, here are a few key things to keep an eye out for:
Look at the shingles – If you notice curling, discolored or missing shingles are the sign that something else could be wrong, since it usually means the underlying wood has been exposed to the elements.
Flashing – This is something that does such an important job yet gets damaged and no one notices. This can lead to problems with mildew or mold under the roof.
Check your gutters – Debris can build up leading to problems developing under the roof.
Roof Replacement in Hudson County
So, how will you know when you are in need of roof replacement in Hudson County, as opposed to just repairs? The age and nature of the repairs, as well as the cost, are indicators but working with a reputable roofing contractor in Hudson County is the key to making sure that you get an honest answer from a true industry pro. If you find that you need to locate an established Hudson County roofing contractor, all you have to do is contract us. Here at American Roofing Service, we take great pride in the work that we do or each of our clients in Hudson County, NJ.


If you are looking for a professional Hudson County roofing contractor then please call 201-358-2929 or complete our online request form.