Essex County Roofing Contractor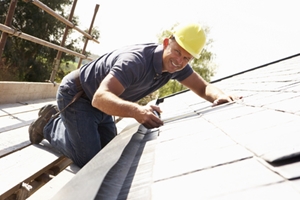 If you have been asking around about the best Essex County roofing contractor to work with, then you have probably already heard about us. American Roofing Service has been the trusted name in this area, and around New Jersey, for superior quality craftsmanship and customer care. Although the company got its start in 2004, our experience in the Essex County, NJ roofing industry spans well over 20 years. So, you can feel confident that you are getting the best in service and results by partnering with us.
Our goal is to be able to provide each and every one of our clients with exceptional service work ranging from complete roof replacements to simple roof repairs in Essex County, NJ. While other roofers in Essex County focus on knocking out quantity work as opposed to quality work, we want to deliver 100% customer satisfaction, every single time. We look to build long term, working relationship with our clients, which also ends up leading to plenty of referral and repeat work. When quality matters, as it always should for your rooftop, the only name that you need to know is ours. We look forward to being the Essex County roofing contractor you rely on.
Essex County Roofer
People rarely realize how much is involved with caring for your rooftop. Unless something goes wrong that you can spot from the ground, with an untrained eye, you are likely to move ahead with an ignorance is bliss attitude. Of course, you are not alone and, unfortunately, this approach can end up leading to severe and unnecessary damage that could, in fact, lead to the need for roof replacement in Essex County, NJ, long before it should be time. From the initial installation to annual inspections to emergency repairs and, ultimately, roof replacement – our Essex County roofers do it all.
You never want to procrastinate or settle for inferior workmanship when it comes to your roofing in Essex County, NJ. With proper care, this could last up to 20 years. Of course, neglect to care for your roof and you will end up with the opposite problem. Let one of our uniformed roofing contractors provide you with a quote so that we can get down to doing what we do best – protecting your rooftop.
Siding in Essex County
It probably comes as no surprise that we also take care of siding in Essex County, NJ and not just roofing. The idea is to take care of what you need most, including any task that helps to safeguard the outside of your residential or commercial structure. Whether you need installation or repairs, we will be there for you.
So what are you waiting for? If you know that you are already in need of an Essex County roofing contractor, give us a call. American Roofing Service has become the leader for this local service because of our dedication to all of our customers.
If you are looking for a professional Essex County roofing contractor then please call 201-358-2929 or complete our online request form.