Hackensack Roofing Contractor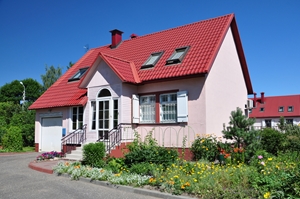 To find just the right Hackensack roofing contractor, you should pick someone with a solid reputation that is established and that is known for taking good care of their customers. Since this is exactly what we have been doing for our customers, since 2004, it is no wonder that we are the obvious choice. We take great pride in the work that we do, as well as take this line of work seriously. American Roofing Service has been the roofer in Hackensack, NJ people in this area have come to rely on for a variety of essential roofing services.
You should never take a gamble when it comes to the quality of work that goes into caring for your roof in Hackensack, for either your residential or commercial building. Your rooftop has an extremely important job – take care of everything underneath it. From the walls and foundation to the people and items housed inside. So, when you don't bother to care for your roof you can rest assured that you are putting all of this at risk. Get in touch with our roofing contractors in Hackensack, NJ today and let one of our uniformed professionals provide you with a service quote.
Hackensack Roofer
Why is it that the most important part of your structure also happens to usually be the one that gets the most neglected? Your roofing has such a crucial job and you should set it up for success in order to make sure that it lasts. With proper care and roofing service in Hackensack, NJ, an asphalt shingle roof can last for two decades. Yet, neglect to care for it the way that you should and you could end up cutting that projected longevity by quite a great deal.
The bottom line is that you should never take chances when it comes to the quality of care that goes into protecting your roof, as well as the rest of your home's exterior. In fact, this is why we also offer services like siding, gutters and more in addition to our roofing contractor work. All of this works together as a cohesive system to safeguard the outside of your Hackensack home or business, which is what keeps out things like mold, rodents, rot and more.
Structural Repair & Restoration in Hackensack, NJ
Maybe you even have a home or commercial building that is in need of structural repair and roof restoration in Hackensack, NJ. Whether this is the result of emergency storm damage, natural aging or something else, we can help breathe new life into an otherwise lost cause. Don't settle for having to demolish and start new, let us take care of restoring your building. For this, and all of your Hackensack roofing contractor related services, give American Roofing Service a call.
If you are looking for a professional Hackensack roofing contractor then please call 201-358-2929 or complete our online request form.