The New Jersey Commercial Roofing Experts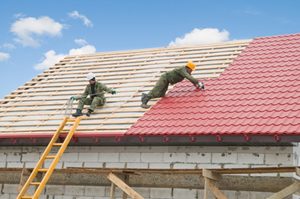 We are also the number one choice when it comes to commercial roofing in New Jersey. Being the top New Jersey roofing contractor is all about offering a wide enough variety of services so that you can take care of all the needs of your clients. You can rest assured that whatever service you call on American Roofing Service for, you are going to be more than satisfied with the final results. Taking care of your building, be it residential or commercial, is an important job.
The trick is making sure that you work with someone that has the proper credentials to be working on commercial buildings; there are different guidelines and codes when it comes to this type of structure. Don't take chances of not being able to get the correct type of service for your commercial roof, since the roof is essential for helping to protect the entire rest of the building, as well as the people and items inside. We look forward to working with you and providing you with the level of quality service that you need in order to get the job done right, the first time around.
Top Quality Commercial Roofing in New Jersey
From the initial installation to the final replacement, we will be there for you every step of the way. We are committed to providing our clients with the best in quality workmanship, as well as customized customer care. This is something that we have been doing together as a professional New Jersey commercial roofing team under the American Roofing Service name since 2004, but the experience backing the company spans well over 20 years. We take this line of work very seriously and that is evident in the results that we get, every single time.
So whether you are in need of expert commercial roof repairs or need feedback about which roofing system would best suit your needs, our commercial roofers in New Jersey can take care of you. Since our crew goes through constant training, it also means staying up to date with current industry codes and guidelines for commercial roofing. Don't take a gamble when it comes to something as important as this aspect of your structure; call today in order to get the results that you want.
Professional New Jersey Commercial Roofing Services
We serve all areas of the state of New Jersey and have been dedicated to making sure that all of our customers are 100% satisfied. You can expect this same high level of dedication when it comes to any work that we do for you with your commercial roofing in New Jersey. The bottom line is that the only name that you need to know for New Jersey roofing services is American Roofing Service, so give us a call right now so that we can get started.
If you need an expert for commercial roofing in New Jersey, then please call 201-358-2929 or complete our online request form.