New Jersey Roof Replacement Pros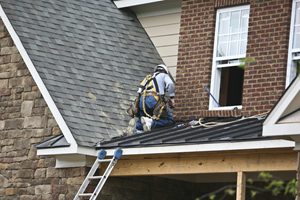 At some point the time is going to come, you are going to need to move beyond repairs and address the need for roof replacement in New Jersey for your home. When that time comes, will you know the name that you need to call on in order to get the best in quality results? In fact, how will you even know if the New Jersey roofing contractor you are entrusting your home to is even being honest about whether or not you really need a replacement yet? Finding a reputable roofing services company to partner with for your roofing concerns is an important part of being a homeowner.
By making the wise decision to work with our expert New Jersey roofers here at American Roofing Service, you can rest assured that you are getting the best in reliable, dependable and, most importantly, honest service. For well over a decade now, our name has become synonymous with expert workmanship and top quality roofing services in New Jersey. We take great pride in the work we do and take this line of work seriously. Your roof is literally the most important aspect of your residential structure so don't entrust it to just any contractor claiming they can provide you with quality a roof replacement in New Jersey.
The Trusted Source for Roof Replacements in New Jersey
On average, a well maintained asphalt shingle roof should last approximately 20 years. If you know that your roof is at least that old, then it is time to make plans for replacement of your roof. Also, if you have repair needs that are just too extensive, then it only makes sense to replace the entire thing. You can feel confident knowing that we will give you the honest and straightforward answer that you need, in order to only provide you with services that you need.
We care about our customers and want to treat them the way that we would want to be treated. It is also part of the fact that we cold not have lasted for over 10 years by steering our clients wrong. We will come out and conduct a thorough inspection in order to determine if you are in need of just repairs, or if it is time for a roof replacement. Your rooftop is the most important aspect of your home so don't take chances when it comes to its well-being.
New Jersey Roof Replacements
Don't keep putting off until tomorrow what we could be taking care of today. When it comes to a service as essential as New Jersey roof replacements, you can count on the experts here at American Roofing Service. Give us a call today in order to get started. We promise you that you will be beyond satisfied with the level of care we are able to provide for you.
If you need a roof replacement in New Jersey, then please call 201-358-2929 or complete our online request form.