Passaic County Roofing Contractor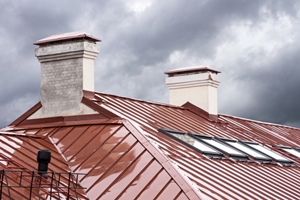 One of the tasks that you have to address, when it comes to caring for your residential or commercial building, is tracking down a reputable Passaic County roofing contractor to work with. What people tend to overlook is that your rooftop is the single most important aspect of your building. So it is essential to take care of it properly, in order to keep the rest of the structure protected and safeguarded against the elements. Let your roof go and you can expect the rest of the building to soon follow suit.
American Roofing Service is the roofing contractor in Passaic County that locals call on for all of their roof related service needs. Our name has become synonymous with superior roofer services, because we genuinely care about the customers we take care of. The bottom line is that we treat you with the same level of concern and respect we would want to be treated with. It can be frightening finding out that you have repair needs for your roof, so it makes the process that much easier when you know that you have a Passaic County roofing contractor to work with that is on your side.
Passaic County Roofer
With over 20 years of hands-on, industry related expertise backing up our roofers in Passaic County, NJ, you can feel certain that we will go above and beyond to take care of you. It is easy to take your rooftop for granted and that means forgetting all of the things that can go wrong:
Leaks and Moisture
Ponding Water
Blistering
Lack of Maintenance
just to name a few
Even just the natural aging process takes its toll and causes you to have to decide if you should go with repairs or opt for roof replacement in Passaic County, NJ. The average asphalt shingle roof should have a quality lifespan of about 20 years, with roof repairs and maintenance. We can help ensure that those years are quality years.
Roof Inspections in Passaic County
Did you know that you should be getting an annual roof inspection in Passaic County, NJ or that you need one following any heavy storm activity? If not, don't feel bad, you are not alone – but now it is time to make a change. If you want longevity from your rooftop, you need a quality roofer in Passaic County, NJ to take care of regular roof inspections for you.
When it comes to your roofing contractor service needs in Passaic County, NJ, you can count on American Roofing Service's expert roofers. We take this line of work seriously and that shows with how we treat each client in the Passaic County area. We care as much about preserving your rooftop as you do!


If you are looking for a professional Passaic County roofing contractor then please call 201-358-2929 or complete our online request form.