Paramus Roofing Contractor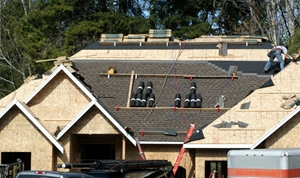 When it comes to finding just the right Paramus roofing contractor, you may feel overwhelmed trying to make a decision. So many names out there but how are you supposed to know which one to choose? For one thing, you can feel good knowing that American Roofing Service is an established company for roofing services in Paramus, NJ. We have been in business since 2004, but the industry related experience backing us up spans over two decades.
Not to mention, we also have an impeccable reputation as a roofer in Paramus, NJ built upon the feedback and results we have earned from our customers. As a top roofing contractor, we take great pride in the work that we do and that is evident in the results that we get for every one of our customers in the Paramus area. So when you are in need of service as important as Paramus roofing contractor work, don't take a gamble on the company that you choose to call on. You want to be sure that you get the quality results that you deserve and should be able to expect for professional roofing services in Paramus, NJ.
Paramus Roofer
There are so many reasons that you may need to call on a professional roofer in Paramus, NJ; from installation and inspections to repairs and replacement. Because your roof is the most vital aspect of your home or business, you need to work with only true professionals to get the job done. Otherwise you could end up with shoddy workmanship that leaves your structure exposed to the elements. Call on our expert Paramus roofing contractors here at American Roofing Service in order to get the results you need.
We will help improve the quality, as well as ensure that you get the longevity that you should be able to expect. The important thing is not to try to DIY your roof work and do not work with anyone that lacks the necessary credentials to work on your rooftop. We look forward to meeting with you and proving to you, firsthand, that we are the right choice for services like roof replacement and roof repairs in Paramus, NJ.
Insulation in Paramus, NJ
You will be glad to know that we also take care of insulation in Paramus, NJ, which is another important aspect of your home or business. Insulation acts as an interior blanket that helps to moderate the temperature; keeping things cool in the summer and warm in the winter. Give us a call to get started.
When you are in need of an expert for any related Paramus roofing contractor services, you now know the name to trust in. At American Roofing Service we will demonstrate to you what a difference it makes to get true quality work. Let us provide you with the best of the best when it comes to the work you get for your roof in Paramus, NJ.


If you are looking for a professional Paramus roofing contractor then please call 201-358-2929 or complete our online request form.