What You Should Know About Snow Ice Guards in New Jersey
---
---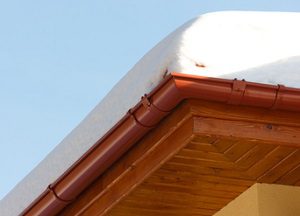 Living in New Jersey means putting up with winter weather. Even those locals who love the snow have to admit one of the problems with it is the possibility of what's commonly referred to as a roof avalanche. This is when a heavy build up of snow, ice or a mixture of both, comes sliding off the roof. The biggest concern is for the people, pets and property below; the effects can be devastating. As a home or business owner, obviously this is the last thing that you would want to have happen. Every winter there are reported instances of property damage or harm to pedestrians or pets due to the uncontrolled release of built up snow or ice from rooftop. The worst thing about this is that it all could have been avoided with the use of a simple device for the roof known as snow ice guards in New Jersey.
Preventing the Problem with Snow Ice Guards in New Jersey
In order to prevent the problem from even happening in the first place, one of the best methods that you can use is with snow ice guards in New Jersey. This is a device that looks usually like a single bar of small gate that runs across the rooftop. The purpose is to retain the snow and ice build up and let it melt completely before falling to the ground. By letting it melt and be released in small increments, this prevents the sudden release of snow and ice all at once.
By working with industry experts, you can have this system professionally installed on your rooftop, regardless of what type of roofing system you have. Everything from tile and slate to commercial membrane roofing can get a snow ice guard. The best part is that with so many colors and styles to choose from, you can keep your roof looking attractive. Improve the look of your residential or commercial building while taking precautionary measures to safeguards people, pets and property against harm from snow and ice.
If you are going to live in a region that can get heavy accumulations of snow or, even worse, ice, then you owe it to yourself to get snow ice guards in New Jersey. Any time you can take a small step in order to ensure the safety of your property and the well-being of other people, it should be done. Now, all you have to do is give our New Jersey roofing contractors a call to find out more.
Making a Change
By getting in touch with American Roofing Service, you can feel confident that you are getting the best service possible. We offer the best in products and materials, as well as workmanship and customer care. We take this line of work seriously and it shows in the results that we are able to deliver for all of our clients.
If you are looking for a roofer that installs snow ice guards in New Jersey, then please call 201-358-2929 or complete our online request form.