Ramsey, NJ Roofing Services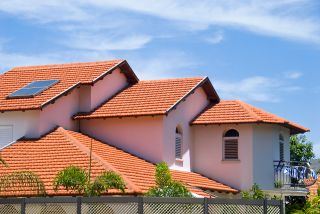 Whether you need Ramsey roofing services or want to make some other exterior improvements to your home, our New Jersey roofers are ready to help you.
Anytime someone repairs or makes improvements to the exterior of your home, everything should be done to make sure the structure stays waterproofed. When mistakes are made, moisture can infiltrate the roof shingles or siding and cause problems. This is why you'll want to be careful about choosing your roofing and siding service company.
With 20 years as New Jersey roofers, American Roofing Service is the reputable company you can trust for expert workmanship and quality products. We have in-depth industry knowledge and work with manufacturers of quality products like CertainTeed, Owens Corning, Hardiplank, and more.
Quality Roof Repairs & Replacements
Emergency Roof Repairs Available
Licensed & Certified
Quality Roofing Products
Local & Reputable Roofers
Professional Roof Repairs In Ramsey
Roof repairs are common at this time of year. As the winter snows accumulate on our roofs, they can get damaged from ice dams or the heavy weight of snow. Storm damages can also occur during any time of year when hail or high winds can tear off shingles. During spring, the roof can become littered with debris and dead tree branches. All the moisture in our climate can leave the roof stained with mildew.
These problems need to be taken care of as soon as they occur. Otherwise, extensive problems start damaging the roof which costs more to repair. If you have a roof leak or suspect you do, call in our service team at American Roofing Service. We can fix small or large roof problems on all types of residential roofs.
Roof Replacements In Ramsey
Some roof repairs in Ramsey involve replacing a shingle or two, while some involve replacing the entire roof structure. Whether you have extensive roof problems and need a roof replacement or just need minimal repairs, our team at American Roofing Service is ready to handle the work. We can install designer shingles, asphalt roofs, and metal roofs. We also take care of siding and gutter installations, leak detection, and snow/ice guard installations.
If you are looking for a Ramsey, New Jersey roofing contractor, please call American Roofing Service at 201-358-2929 or complete our online request form.