Englewood Roofing Services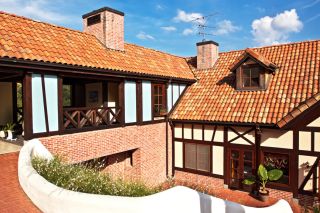 If you have an old roof that needs replacement, call American Roofing Service. We can take care of your roof whether it's replacement or repairs. There's no reason to let a stained, damaged roof bring down the value of your home. With roof repairs or replacement, the new roof will look fabulous. Best of all, the roof structure will do it's job which is to waterproof your home.
If you live in the Englewood, NJ, area, you have probably experienced some roof damages due to the climate at some point. If you haven't worked with a local Englewood roofing company you trust yet, we hope you'll give our New Jersey roofers the opportunity to help you. We work hard every day to earn a reputation of trust in the communities we serve.
Roof repairs, replacements, inspections
Residential & commercial roofing services
Siding installations
Insulation
Gutters
Downspouts
Leak Detection
Snow & Ice Guards
About Our Professional Roof Repairs In Englewood
When it comes to your roof repairs in Englewood, you'll want to be sure that the roofers you choose are experienced and qualified. You can count on our roofers who have more than 20 years of hands on experience in the roofing industry. You'll have quality repairs you can trust when you choose our team for roof repairs.
Roof Replacements In Englewood, NJ
The best part of getting a new roof is that you have plenty of options on the shingle styles you want to install. From plain asphalt shingles to a more durable metal roofing system, you make the choice on how long you want your new roof to last. In our climate, a more durable shingle is going to save you money on repairs and early replacement.
Instead of dealing with roof damages that others are faced with after a storm, your roof can still be standing strong if you make the right choices now. Whether you choose standard asphalt shingles, a metal roof system, or designer shingles for your Englewood roof replacement, we have what you are looking for at American Roofing Service. We offer a large variety of quality roof shingles from well-known manufacturers. Call today for a fast, friendly estimate.
If you are looking for a Englewood, New Jersey roofing contractor, please call American Roofing Service at 201-358-2929 or complete our online request form.