Montvale Roofing Contractors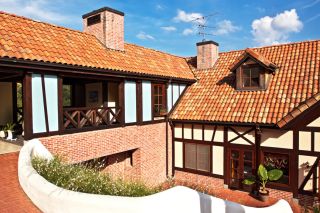 No other part of your home is as important as its roofing. Your roofing provides many parts of your home with a great deal of protection, so when there are any problems with your roofing, it leaves much of your home vulnerable to more damage. At American Roofing Service, we work hard to provide our clients with the highest quality roofing services possible so that their roofs are always kept in excellent condition.
Our Montvale roofing contractors are licensed, trained, and experienced professionals who are always able to provide excellent service and quality workmanship. Whether you need regular roofing maintenance or a full roof replacement, our expert roofers will always be ready and eager to tackle the job.
Call us today to schedule your appointment, or to ask any questions you have about our services, and we'll be looking forward to assisting you.
Roof Inspections in Montvale
Any amount of damage to your roofing needs to be repaired as soon as possible—otherwise, it will quickly spread and grow, causing problems with many other parts of your home. However, it's very difficult for the average homeowner to recognize problems with their roofing. Our professional Montvale roofing contractors recommend that you have a roofing inspection performed once every three years in order to find and eliminate problems as soon as possible.
During our roof inspections, we look for common roofing problems that often go overlooked. Our inspections will always be totally thorough and accurate.
Montvale Roofing Repairs
Your roofing is constantly exposed to weather and the elements, so it could be seriously damaged at any time. When it is damaged, it needs to be thoroughly repaired as soon as possible. Our Montvale roofing contractors will be able to pinpoint any roofing damage and accurately repair it.
We understand how important your roofing is to your home, so we'll be ready to do whatever it takes to provide the best repairs possible. No matter how small or large the job is, you can depend on us for thorough and accurate work.
If you are looking for a Montvale, New Jersey roofing contractor, please call American Roofing Service at 201-358-2929 or complete our online request form.